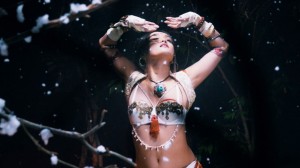 More Natsumi's videos here↓
https://www.patreon.com/natsumi
Hi there and thank you so much for checking out my Patreon page!
My name is Natsumi Suzuki, I am from Japan. I have been dancing since I was 8 years old. My parents enrolled me into Ballet school when I was a little kid, during the course over the years, I transitioned into hip hop during my high school years and founded Tribal Fusion later on in my life.
Tribal Fusion is a modern form of belly dance which was created by fusing American Tribal Style belly dance and American Cabaret belly dance. Artists frequently incorporate elements from Popping, Hip Hop, 'Egyptian' or 'Cabaret' belly dance, as well as movement principles from traditional forms such as Flamenco, Kathak, Odissi, and other folkloric and classical dance styles.
When I lived in Japan, I toured my country performing in various cities and held workshops for students who wants to learn Tribal Fusion. Occasionally I will do skype lesson online with students. Right now I am currently staying in San Francisco hoping to showcase myself more here in the states and to be able to reach out to new students.
I am joining Patreon in the hopes that with your continued help and support, I can not only continue doing what I love but to be able to reach out to more people and share my art with everyone is what I desire.
Recently, here in the United States I was able to meet with a bunch of talented people who graciously donated their time and effort in helping me create dance and video tutorials so that may reach out to more people. With your help, I can speed up this process and put up more video more frequently!!
If you are able, please consider becoming a Patron by contributing even just $1!! (I am planning to release as many content as I can when. It will make a huge difference! If I hit my goals, I can update and release video content more frequently!! My experience with videos has been very fun so far and I would love to continue to keep doing them!
Thank you so much!!! -Natsumi
https://www.patreon.com/natsumi
————–
私のPatreonページをチェックしてくださった皆様、ありがとうございます。私はNatsumiといい、幼少期よりバレエをはじめ、その後ヒップホップダンサーを経て、現在はアメリカ(主にロサンゼルスとサンフランシスコ)を拠点にトライバル・フュージョンダンサーとして活動しております。
2014年にはメキシコツアーと日本ツアーでたくさんのショーやレッスンを開催しました。
私は今、アメリカで出会ったアーティスト達と共に新しいビデオ制作を予定しております。私のダンススタイルやアート、そしてレッスンビデオをたくさんの人たちとシェアをし、協力しあい、そこから更に新しいものをつくりあげていきたいと思っております。
そのビデオ制作のために、皆様のお力を御貸ししていただければ幸いです。
皆様の$1が大きな世界を広げてくださります。
寄付が目標額に達すれば、より速く、よりたくさんのビデオを皆様にお届けいたします。
どうかよろしくお願いいたします。
Natsumi Suzukia
https://www.patreon.com/natsumi