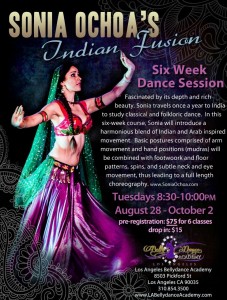 アナウンス!!
元ベリーダンス スーパー スターズのソニアのワークショップが先週から始まりました。
Sonia Ochoa will be teaching a 6 week India Fusion intensive at the Los Angeles Bellydance Academy on Tuesday nights starting Aug. 28.
日時:8月28日~10月2日まで全6回
火曜 8:30-10:00pm
場所:Los Angeles Belly Dance Academy
8503 Pickford Street, Los Angeles CA 90035
今週はソニアが海外のショーに行っている為、休講です。
Pre-registration for 6 classes(6回クラス): $75
Drop in rate(1回): $15
残り5回ですがDrop inできるので、是非!!