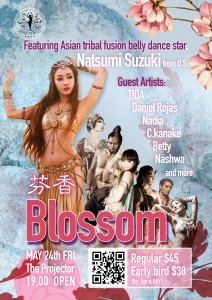 📢For the first time in Singapore, the one and only Asian tribal fusion belly dance star, Natsumi Suzuki (U.S) will perform! Lifelong dance artist professionally trained in San Francisco, the hot spot of tribal fusion belly dance, isolation maestro Natsumi will dance her latest pieces which features Japanese storytelling and folklore.

🌸芬香 – Blossom- 🌸
Natsumi Suzuki Special Show

❤️Special guest: Natsumi Suzuki ( U.S)
💃Guest artists: Tida Naomi (Japan), Daniel Rojas , Nadia A Sueoka, Cee Kanake, Betty Kang and Nashwa Bliss (Singapore) and more!

🔵 Vendor: Chitlom35 (Japan)

🕑 Date&Time: May 24th Fri 19:00 Open
📍Venue : The Projector
6001 Beach Road #05-00 Golden Mile Tower
➡️Ticket: https://www.eventbrite.com/e/-blossom-natsumi-suzuki-special-show-tickets-56469289164?aff=Dancetobliss
📢📢📢Early birds price by April 6th📢📢📢

Presented by Dance to bliss
Flyer design by Daish Malani

https://www.facebook.com/events/2208242459262055/

Singapore Workshops
25 & 26th
TBA!!