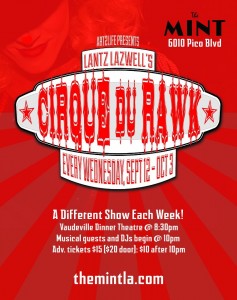 I'll perform this Wed!!
Oct 3rd GRAND FINALE Line-up!
9 pm – Dan Rockett Acoustic
9:30 – The Vaudeville Variety Theatre begins (there will be a dinner menu, if dinner is desired), performers include- Super Tall Paul, Ross Steeves, Jesselynn Desmond, Mark Highlove, Cat Healy, Violent femme, Push the Girl Burlesque, Steamy Cruz, and many more!
10:15 – The Dolemites feat Natsumi Suzuki
10:35 – BK Willy (DJ SET)
11:00 – Lantz Lazwell & The Vibe Tribe feat Dan Rockett, Joe Sax, Stevhen Ianco, Jackie Rainer, Michael Grant and more TBA
12:30 BK Willy (DJ Set)
Cirque Du Rawk is always an interactive evening of entertainment, that begins with a Vaudeville Variey Show feat. Sexy Burlesque performances, vaudeville vignettes, Song and Dance, and Clown cameo's! And ends with DJ's and Live Bands feat Lantz Lazwell and the Vibe Tribe, and WEEKLY SPECIAL MUSICAL GUESTS! See for yourself, this Line-up is unparalleled. And Its a different show each week, with ALL my favorite West Coast Talents.
Let me introduce you to some of them;
Lantz Lazwell and the Vibe Tribe (resident band)
www.reverbnation.com/lantzlazwell
Eric McFadden (P-Funk)
Acoustic Minds (Lafa Tayor)
The Dolemites w Natsumi Suzuki
Super Tall Paul Newman www.supertallpaul.com (resident vaudeville headliner)
Helios Jive
The Black 22's
Shakti Bliss www.djshaktibliss.com
Dan Rockett www.danrockett.com
Viking (Delta Nove) www.deltanove.com
The Orphics www.theorphics.com
Jaclyn Strong
Micheal Grant www.themichealgrant.com
Kiran Notez (PRODUCER/ DJ SET) www.soundcloud.com/kirannotez
Apaulo8
Shawn Barry
Boenobo the Clown (Gooferman, clown korps) (DJ SET)
O'diggz (DJ SET)
Moonshaker (DJ SET)
Kritter Krew (DJ set)
ELEVATOR SEX (DJ set)
more TBA!
– VAUDEVILLE PERFORMERS –
Super Tall Paul Newman (helios Jive, suddenly dapper)
Jesselynn Desmond (Diatomaceous Love, Lucent Dossier)
Mark Highlove (Diatomaceous Love, Lucent Dossier) www.facebook.com/MarkHighlovewww.diatomaceouslove.com
Ross Steeves (Lucent Dossier) www.rosssteeves.com
Cat Healy www.cathealy.com
Doug Lazwell
Violent Femme – the Rebel of Burlesque
Push the Girl – Burlesque
Liz Katz www.youtube.com/lizkatz
Annie Gaia
Elise Loraine
Tinker the Clown
Steamy Cruz
more TBA!